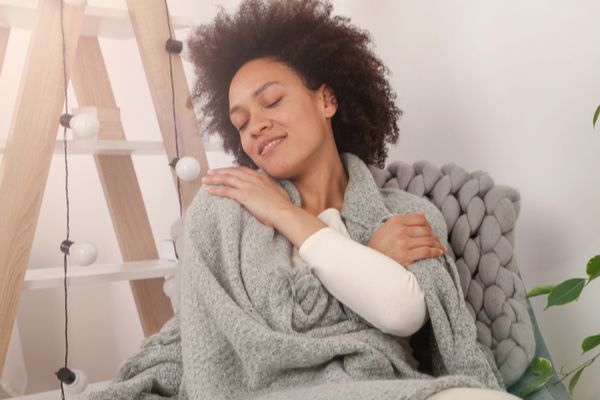 The 2021 holiday season is here, and with some holiday celebrations continuing to be online and some taking place in person, there can be a lot of planning that has to take place! It can be easy to lose track of the self-care activities in which we engage throughout the rest of the year that keep us healthy and happy. Here are some tips to consider to improve your self-care this holiday season:
1. Keep up the exercise
Often times during the holidays, people will skip their normal exercise routines including walking. This results in losing a very potent stress reliever. Rather than skipping workouts all together, I would encourage people to simply scale back if they find that they don't feel like doing their regular workout routine.
Engaging in physical activity is something I recommend to every client I work with because it helps improve mood, concentration, and even sleep.
Research has shown that regular exercise (lasting at least 10 minutes per day) triggers the release of serotonin and dopamine in the brain (the same hormones that are targeted by anti-depressant medications), which can buffer against stress, anxiety, and depression. A morning walk is a powerful tool in your toolbox!
2. Respect and protect your sleep
Few things can have as much positive impact on physical and mental health as much as restorative sleep. A good sleep can help us feel recharged, energetic, and motivated. During the holidays, people may disrupt their sleep schedule to stay up later than usual. Here are three things that you can do to make sure your sleep is protected and as restful as possible:
Cut back on the caffeine and sugar for at least four hours before bed. These are stimulants that can keep you awake. Try a herbal tea or unsweetened carbonated water!
 
Skip the naps, especially the ones after large meals, so that you're more tired at bedtime. If you do nap, limit the nap to no more than 30 minutes and in the earlier part of the day.
 
Pass on the goodies and leftovers in the fridge for at least three hours before bed so that you're not kept awake by heartburn, indigestion, or sugar headaches.
3. Practice gratitude
Gratitude is another activity that can improve our reactions to stressful situations and to be more receptive to the good things around us. Research has demonstrated that even pondering the question, "what am I grateful for?" can increase levels of dopamine and serotonin in the brain, even when you can't think of an answer.
Practicing gratitude can be as simple as reviewing what you are grateful for each day. This can be done mentally, or through the use of a simple gratitude journal (app-based or good old-fashioned paper-and-pencil) where you write down the actions, activities, people, or memories for which you are grateful
 
You can ask your friends, family, and children what they are grateful for and share in the gratitude of others.What a gift to share!
4. Make space for difficult feelings
The holidays can often be difficult times for many people. If you notice yourself repeating unhelpful habits, try to take a step back to make sense of what's going on. The more you try to make sense of and confront your emotions, the less scary they can become. This makes it easier to sit with those difficult emotions.
5. Enjoy the present moment
One thing that can improve our enjoyment of the holidays is being present for the moments happening all around us. Noticing the small things right in front of us can allow us to feel grounded and present and improve our enjoyment of the holidays.
Do what you are doing when you are doing it! Notice the wandering mind, non-judgmentally and return to the present moment. A good deep breath can help us press the "reset button" on the moment.
 
Remember to take it easy and allow yourself the space to open up and enjoy each moment as it happens. Don't forget to share some smiles and laughs over that video chat with family or friends, and savor every bite of that holiday meal.
If you are experiencing anxiety and are having a difficult time, we have occupational therapists, psychologists, psychotherapists, counsellors and social workers that can help.
If you feel like you need support, please reach out. Check our locations page to find a clinic near you or book online to schedule an appointment.