Author Details
Reg. PT., M.Sc.PT., H.B.K. | National Director of Program Development, Specialty Services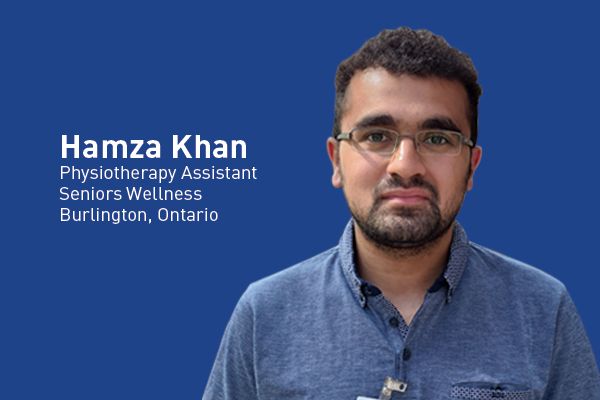 In honour of Physiotherapy month, we want to recognize the dedication and hard work that our Physiotherapy Assistants (PTAs) do to help seniors in the communities they live in. Their commitment and expertise is helping to move people to a better life.
We asked Hamza Khan, a PTA for the Seniors Wellness Community Outreach Program in Burlington Ontario, to share what he loves most about being a PTA and working in seniors wellness. Read on to learn more about his experience.
Why did you choose to become a Physiotherapy Assistant?
I have had a passion for seniors wellness ever since I started my undergraduate studies in Kinesiology. While working in various seniors' care programs and facilities, I noticed that only the bare minimum amount of work was being done to meet seniors' needs.
Upon observing this, I wanted to join Lifemark to make a difference and set the bar higher for myself in terms of contributing to high quality seniors' wellness programs for residents.
What is one thing that you love about being a Physiotherapy Assistant?
I love to listen to the needs and concerns of residents and develop action plans to resolve those concerns. I love how there is a different challenge every day and how there are many ways to solve a problem.
What is one thing that you love about working in seniors wellness?
I really love how "innovation" is always welcome, especially when the wellness team encourages their employees to think outside the box. I love educating seniors about health and wellness tips and keeping seniors fit and healthy.
The word that you use most frequently as a clinician is…
Comfort.
It's important!
If you were a superhero, what is one power would you like to have?
Reading minds. If a resident is not open or shy to speak up about a need or concern – I could address their concerns by reading their minds!
Learn more about how we provide rehabilitation services for seniors in long-term care, retirement homes, and community settings by visiting the Seniors Wellness services page.
Author Details
Reg. PT., M.Sc.PT., H.B.K. | National Director of Program Development, Specialty Services