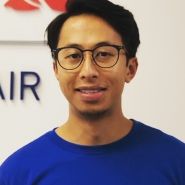 Registered Physiotherapist
Available at multiple locations
About
Boris graduated from University of Toronto in 2013 with a Master of Science in Physical Therapy after earning an Honours Bachelor of Science Degree in Kinesiology. Boris is fully certified through McMaster Contemporary Acupuncture and Integrated Dry Needling. He incorporates his training from Active Release Technique (ART®), Fascial Release, Kinesiotaping seminars as part of his treatment approach to maximize your recovery. He continues to upgrade his skill set and is working towards his manual therapy levels from the Orthopaedic Division of the Canadian Physiotherapy Association.
Boris is a sports enthusiast. He competed in varsity Badminton at York University prior to becoming a physical therapist. With almost a decade of experience treating various injuries, Boris has always maintained his focus on delivering individualized client-centered care. Boris has the ability to make complex concepts about your body easy for you to understand and after diagnosing the root cause of the injury, Boris will work with you to develop a plan to overcome challenges and restore optimal health.
When not at the clinic, you can find Boris spending time with his family, riding his motorcycle, and staying active through weight training.