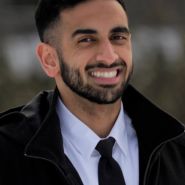 Available at multiple locations
About
Karn's experience with a number of injuries growing up, as well as facing weight issues has caused him to change and adopt a healthier outlook on life. Following developing a new perspective on health and wellness, and after being enrolled in kinesiology, Karn wanted to share his experiences and knowledge with others, in hopes of changing their life in a positive way.
Karn is often inspired by those who are placed in a challenging situation but continue to rise and face it head on. Likewise, Karn's clients who continue to live their best life after experiencing life altering events, push and motivate him to continue to do the work that he does.
Karn has completed his diploma of sports science with a specialty of kinesiology, as well as his Bachelor of Physical Education and Coaching with a specialty of kinesiology at Douglas College. Adding onto this, Karn has completed his Master of Kinesiology at the University of British Columbia and hopes to go back to complete a PhD down the road.
In his spare time, Karn can be found staying active through means of physical activities including outdoor activities, hitting weights at the gym, and playing a variety of sports. Karn is also a big foodie who enjoys spending time with his family and friends.