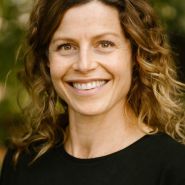 Available at multiple locations
About
Kristy has been practising physiotherapy since 1995. She graduated from the University of Toronto where she obtained a Bachelor of Science in Physiotherapy. Before moving to Whistler in 1996, Kristy spent a year and a half in New Zealand and Australia both traveling and working.
Kristy was born and raised in a small Ontario town, Strathroy. She spent her spare time figure skating, reaching a very competitive level. At the age of 14, her figure skating days came to an abrupt end due to a stress fracture in her lumbar spine. Experience as a patient opened the doors to her future in physiotherapy.
Originally hired to fill a six-month maternity leave, Kristy has yet to leave and has become an ingrained member of both the Lifemark Whistler team and the Whistler community. She has built a solid clientele with a large local following.
Kristy has a special interest in manual therapy and sports injuries and has continued to educate herself with post-graduate manual and manipulative therapy studies. Kristy has added functional movement screening to her repertoire, as well as functional dry needling / intramuscular stimulation. She has experience treating a variety of athletes and has had the opportunity to travel with several snowboarding teams and is currently working with the Canadian National Slopestyle Snowboard team.
Her other interests pertaining to physiotherapy are making thermoplastic splints for wrists/hands, custom orthotic fitting, athlete and return-to-sport assessments, functional movement screens, and brace-fitting. During the Vancouver/Whistler 2010 Winter Olympic Games, Kristy was part of the on-call medical team specializing in the fabrication of thermoplastic splinting.
Kristy is a mother to two young girls. Together with her husband, a well-known professional snowboarder / NOW bindings inventor/owner, originally from Quebec, Kristy enjoys the outdoors, hiking, running, snowboarding, traveling, renovations, and learning the French language.
Certifications
Manual + manipulative therapy
Dry needling (IMS)
Bracing and splinting
Orthotics