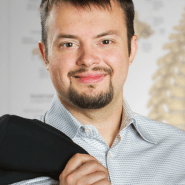 Available at multiple locations
101 - 4330 Blackgold Drive
About
Michael has been a licensed chiropractor since 2014. He trained in the US at Palmer College of Chiropractic in Davenport, Iowa. His chiropractic education also included shadowing various chiropractors and naturopaths in and around Portland, Oregon. Michael incorporates manual and activator adjusting as well as a variety of soft tissue release techniques. He also incorporates many techniques from his basic certification in Professional Applied Kinesiology. 
In his practice, Michael focuses on using functional tests to determine which chiropractic adjustments will move the body towards strength and flexibility. He finds it helpful to demonstrate through various objective and subjective measures such as range of motion, pain reduction, and strength testing how chiropractic adjustments, targeted stretches, and custom exercises can be beneficial.
On a personal note, Michael recently became a father to his son Ulysses. When not at work or helping take care of Ulysses, Michael enjoys playing board games with his friends and practicing martial arts like judo or BJJ, the second of which he has a blue belt in. Michael is very excited to be part of the team at Lifemark in Leduc.