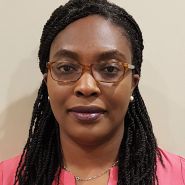 Available at multiple locations
Village Square Mall
131-2640 52nd Street NE
About
Dr. Onutobor (Tobi) Omu holds a Bachelor of physiotherapy from University of Teesside, UK, and a Master of neuro-rehabilitation from Brunel University, West London, UK. She also completed a PhD in neuro-rehabilitation and health sciences (2010), from Brunel University, West London, and has worked as a physiotherapist in various junior and senior posts in the United Kingdom and Kuwait.
To increase her understanding of sports injury management and prevention, Tobi also completed a taught Master of sports medicine, health and exercise at the University College London, UK in 2014, and was involved in various research projects at the Sports Injury Prevention Research Center at the University of Calgary.
Tobi is currently pursuing advanced certification in acupuncture and manual therapy techniques for managing musculoskeletal and neurological conditions.