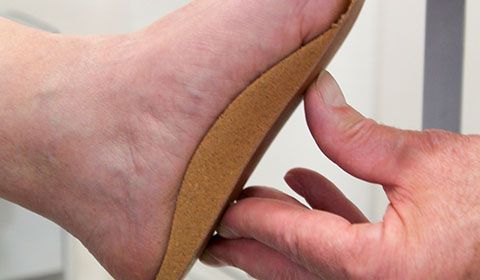 Your feet are your foundation. They directly impact the way your body moves and the way it feels. We repeatedly use them in metaphors—like, "stand on your own two feet"—that talk about strength and confidence, important for reaching your full potential.
But how can you put your best foot forward when it's your foot that's causing you pain?
Foot pain, swelling, malformations and balance issues may also influence other parts of your body, sometimes leading to problems in your knee, hips and spine.
It's time to fix the problem, starting at the foundation. Orthotics can help correct and prevent foot pain and other conditions. Here's what you need to know.
Orthotics definition
Orthotics, or orthotic insoles, are supportive devices placed in your shoes to restore the foot to its proper biomechanical balance and function.
They can help decrease excess motion if you have an over-pronated foot (when the foot rolls inward), which is often called "flat foot." Orthotics can also help correct high, rigid arches, redistributing your weight more evenly across your foot and providing more shock absorption.
Orthotics can be made of a wide range of materials depending on their specific purpose, including cork, leather, graphite, plastic, foam and rubber.