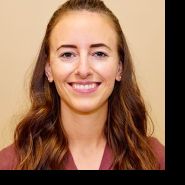 Available at multiple locations
About
Linaya graduated from the Master of Physical Therapy program at the University of Saskatchewan in 2016. Prior to this, she received a Bachelor of Science degree majoring in Exercise Science from Dickinson State University while playing collegiate volleyball.
Linaya has expanded her clinical skills by taking a variety of continuing education courses, some of which include: Complete Concussion Management, Graston Technique, Acupuncture (AA1 and AA2), Mulligan Concept (Upper and Lower Quadrant, Mackenzie Method (Part A Lumbar Spine), and Canadian Orthopedic Division Level Two courses (Upper and Lower Quadrant).
She enjoys working with individuals of all ages and abilities to help them reach their rehabilitation goals. Linaya is passionate about empowering patients through education and exercise prescription to assist them in returning to activities they enjoy and improving their quality of life.
In her spare time, Linaya enjoys being active outdoors, playing beach and indoor volleyball, hiking, camping, and watching a good Netflix series.