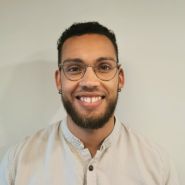 Available at multiple locations
(Inside Fit4Less)
650 Portland Street
About
Reno is Physiotherapy Resident who graduated with a Master of Science in Physiotherapy degree from Dalhousie University in 2021. After graduating from Durham College in 2014 with a Diploma in Fitness and Health Promotion, Reno went on to obtain a Bachelor of Kinesiology from Brock University in 2018. The experience and knowledge he gained from these programs helped to develop his passion for healthcare and helping others. 
Reno utilizes a patient-centered approach to care where the patient/client's preferences, needs and values are the guiding factors in all clinical decision-making. Through education, advice, lifestyle management and physical activity, Reno focuses on empowering his patients/clients to reach their personal and health related goals.  
Originally from Ontario, Reno fell in love with the East Coast lifestyle and decided to stay in Nova Scotia. When not in the clinic, Reno can be found exploring new areas, hiking local trails, weightlifting, and listening to music. This complements Reno's approach to patient care as he likes to complement patient/client goals with their interests.