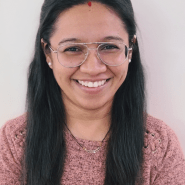 Available at multiple locations
100 - 800 East Lake Blvd NE
About
Kunjal Parekh has earned her Master's degree in Musculoskeletal and Sports Physiotherapy in India in 2014 and has a cumulative experience of 8 years as an Academician and a Physiotherapist.
She is a certified Pelvic Health Physiotherapist and treats various conditions like urinary incontinence, pelvic organ prolapse, pelvic girdle pain during pregnancy and also pre and post natal physiotherapy. She is also certified in TMJD Physiotherapy. She has experience in treating patients with musculoskeletal conditions, sports injuries, rehabilitation, long term care, ICU setups and In-patient management.
Kunjal is passionate about providing a tailored approach to each of her patients, where their own experiences, abilities, and goals are incorporated in order that they achieve the best possible outcomes.
In her free time, she loves reading, painting and spending quality time with her family. She loves travelling and exploring new places and appreciating the beautiful nature.