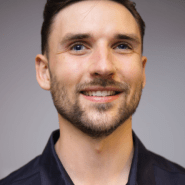 Available at multiple locations
Suite 182
26 Thomas Raddall Drive
About
Anton Sianchuk is a dedicated professional who has embarked on a remarkable journey in the field of healthcare. He graduated with a Kinesiology degree from Acadia University in 2018 and subsequently worked as a Kinesiologist at Lifemark in Amherst, NS. Driven by his personal experience of losing his sight five years ago, Anton found his calling in Massage Therapy. He relocated to Halifax to pursue his passion at the Canadian College of Massage and Hydrotherapy (CCMH), where he successfully completed the 2200-hour program in 2023.
The loss of his sight brought a significant gain in the form of his guide dog, Harper, provided by CNIB. Together, they navigate Anton's daily activities, allowing him to continue pursuing his career. Anton's focus within Massage Therapy lies in the therapeutic and rehabilitative aspects. He works collaboratively with his clients to create personalized treatment plans, helping them achieve their rehabilitation goals. Employing techniques such as deep tissue massage, myofascial release, myotonics, and active joint mobilization, Anton is dedicated to enhancing his clients' well-being. He continues to expand his skillset, acquiring certifications in cupping and gua sha techniques.
Anton's upbringing in Sackville, NB, was marked by his active involvement in various sports, with a particular focus on football. He played collegiate football at Holland College as the team's quarterback for two years. Maintaining an active lifestyle remains a priority for Anton, whether he's hitting the gym or indulging in rock climbing. During his leisure time, he cherishes quality moments with friends and family, explores the culinary scene at local restaurants, and embarks on adventures throughout the Maritimes, accompanied by his faithful companion, Harper. Anton's determination, adaptability, and commitment to providing exceptional care make him an inspiring and invaluable member of the healthcare community.