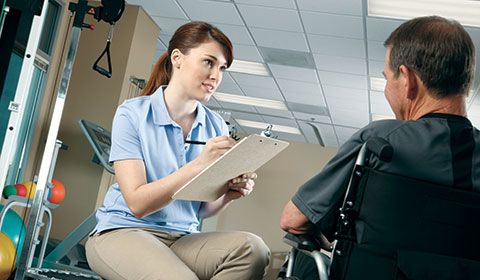 If you've suffered a workplace injury or condition, your first goal is recovery. Getting back to good health is what should matter most to both you and your employer.
But what happens after that, when you've healed enough to start thinking about heading back to work? What if you can't handle the hours, environment and tasks right away? Or ever?
Returning to work after time away for an injury or condition can be daunting. However, return to work services are available to help you and your employer plan and execute a safe, effective return, supporting you each step of the way.
Here's everything you need to know about the return to work services offered at Lifemark clinics.
What are return to work services?
Return to work services involve individualized assessments, rehabilitation, retraining and education on preventative measures. They provide a clear path to workplace reintegration for employees who have been off work due to an injury (whether it happened at work or not) or a chronic medical condition.  Depending on your injury or illness, your return to work team may include an occupational therapist, physiotherapist, kinesiologist, chiropractor, massage therapist, psychologist, psychiatrist, psychotherapist and/or medical doctors.
Our qualified team of clinicians work with you, your physician and your employer to create a customized return to work plan based on a thorough assessment of your functional abilities and limitations, your job responsibilities and workplace environment, to help you progressively build up your tolerance for work tasks. This plan is intended to be transitional, with a fixed duration. The team will collaborate with your employer (and physician) on a gradual return to work schedule and make recommendations on any workplace adjustments or accommodations that may be required. This could include both temporary and permanent solutions.