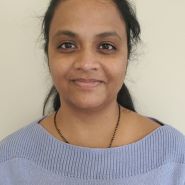 Available at multiple locations
About
Bhakti Khadilkar graduated from Maharashtra University of Health Sciences in India with a Bachelor of Physiotherapy in 2006. She then went on to achieve her Master's degree in Physiotherapy (musculoskeletal sciences) from Maharshtra University of Health Sciences, India. She has been practicing as a registered physiotherapist in Ottawa for almost 10 years.
During her Master's program, she had an opportunity to closely work with orthopedic surgeons for almost three years. This valuable experience allowed her to further expand her knowledge about the healing process post-surgical in different layers such as bone, fascia, muscle. She has kept herself updated with the recent rehabilitation protocols post surgical. Her post graduate dissertation is in "Effectiveness of backward walking post arthroscopic anterior cruciate ligament reconstruction".
In the last few years, she has taken various courses in management of concussion and vestibular rehabilitation. She uses various tools such as infrared goggles to assess and manage dizziness secondary to vestibular imbalances. She regularly treats BPPV, unilateral vestibular hypofunction, cervicogenic dizziness. She deals with post-motor vehicle accident or sports related concussion with comprehensive approach such as coping techniques, improve eye tracking, re-establishing vestibular balance, and returning to function.
Bhakti is a certified mulligan mobilization practitioner for treating injuries such as tennis elbow, adhesive capsulitis, OA knees, etc. She is also able to provide shockwave therapy with the combination of other manual skills to more effective treat joint and muscle injuries. She is certified in McKenzie techniques for cervical and lumber spine which significantly helps in treating disc derangements such as protrusion, herniation.
Bhakti takes great joy in helping her patients decrease their pain and guides them through the healing process. She has also taken a "dynamic taping" course to better allow her patients to stay active by supporting and relieving their injury to help with recovery. Her experience and continued education gives her the tools to truly customize patients treatment. She also has lots of experience treating neurological disorders such as post stroke, Parkinson's, cerebral palsy, Bell's Palsy, etc.
Apart from work Bhakti takes interest in running, cooking and loves to spend time with her kids.