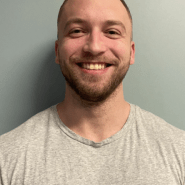 Available at multiple locations
51 Forest Hills Pkwy, Box 16

1658 Bedford Hwy, Suite 9025
About
Calvin is a passionate and motivated therapist who believes that movement is the key to living a healthy and successful life. Through empowering the patient to understand proper movement, Calvin believes patients can learn the tools to not only treat their injuries, but can decrease the chances of them happening again. Calvin treats any patients who are motivated to rehabilitate their injuries and focuses on teaching the patient to take control of their injury.
Calvin's interests include prevention and rehabilitation of athletic injuries, hip, knee and ankle biomechanics and using exercise as medicine. Calvin graduated from Dalhousie University with a Master's degree in Science - Physiotherapy and also holds a Bachelor of Kinesiology degree from Acadia University.
Throughout Calvin's post secondary experience, he has provided athletic trainer coverage for many sporting teams and organizations in Nova Scotia such as: Acadia Men's Basketball, UKC Women's Volleyball and Soccer Nova Scotia.