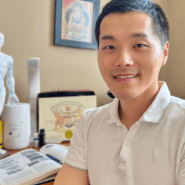 Available at multiple locations
About
West is a registered acupuncturist who graduated from Kwantlen Polytechnic University. He originated from Shanghai, China. He has studied Traditional Chinese Medicine, biomedical science, and anthropology.
His approaches, which combine conventional medicine and ancient traditional Chinese medicine can treat and help with almost any kind of diseases. He specializes in various internal disorders like allergic rhinitis, carpal tunnel syndrome, facial paralysis, hemiplegia, hormonal disorders, multiple sclerosis, and sciatica. 
West inherited the special needle technique from his grandfather, Ji Qin Gan, who is a well-known doctor of TCM at Provincial ZhongShan Hospital, Shanghai, China.
He has strength in acupuncture, acupressure, flame cupping, moxibustion, tuina massage, and sliding cupping. He is also the founder of "Bhaisajyaguru Gravity Acupuncture", and specializes in using auricular acupuncture and "huangdineizhen 皇帝内针".
He has the passion and confidence to help you reach an optimal goal and a healthy future.
Certifications
Traditional Chinese Accupunture