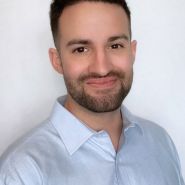 Available at multiple locations
444 7 Avenue Southwest, Suite 250
About
Whether you are an elite fighter, a strength athlete, want to keep up with the kids or you just love your stationary bike, Christian has the experience to help get you moving and feeling better.
With a B.Sc. in Psychology from the University of Calgary, and a Doctor of Physiotherapy from the University of Melbourne (Australia), Christian's passion for his work blends with a love of fitness and nearly 10 years experience as a strength coach, CrossFit instructor and head instructor for a not-for-profit karate club.
A lifelong athlete and jack of all sporting trades, Christian has competed locally in weightlifting, provincially in curling, and medalled at the 2016 World Traditional Karate Championships. He regularly draws on this personal experience to support his work in building effective rehabilitation programs that tailor to the activities you are most passionate about.
Committed to providing safe and respectful care to individuals of diverse sexual and gender identities, he has spent significant time working with the LGBTQIA+ community to help improve safe access to physical activity programs on campus. This research became the foundation for several programs and policy initiatives at the University of Melbourne, as well as being recognized with Australia's highest honour for LGBTQIA+ initiatives in sport. Christian sits on Lifemark's National Diversity and Inclusivity Committee, which is working towards improving inclusivity through procedure, policy and education. He has hosted company wide talks on topics including gender pronoun usage.
Christian spends his time away from the clinic cooking, woodworking, and taking pictures of his cats.