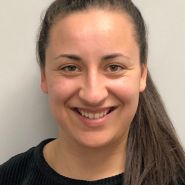 Available at multiple locations
#154 Meadowlark Health Centre
(corner of 87 Ave and 156 St NW)
About
Danelle Graduated from the University of British Columbia - Okanagan in 2017 with a Bachelor of Human Kinetics. She is in the process of obtaining her certificate in Exercise Physiology through the Canadian Society for Exercise Physiology (CSEP).
Upon graduation, Danelle worked as a personal trainer at a private gym teaching physical literacy, functional movements and proper exercise techniques to various populations from all walks of life. She then moved onto further developing her clinical and exercise prescription skills at a neurological physiotherapy clinic in British Columbia, before moving to Edmonton. She has a particular interest in concussion rehabilitation, exercise prescription for chronic conditions and working with exercise beginners. She truly believes that physical activity can inspire confidence, foster human connection and open up new possibilities in people's lives.
Danelle enjoys the outdoors, and her ideal weekend is hiking and camping in the mountains. She is competitive at heart and is always up for a good challenge. She enjoys running, weight training and playing numerous sports. She loves to spend time with her family and friends and looks forward to meeting new people.