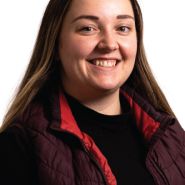 Available at multiple locations
About
Katelyn graduated from the University of Regina in spring 2021, where she received a Bachelor's of Kinesiology in Human Kinetics with distinction and an international designation for her attendance of EASM Sports Management program at the Universidad Europea Madrid, Madrid, Spain.
She is a Clinical Exercise Physiologist (CEP) and member of the Canadian Society for Exercise Physiology (CSEP). She also is a member of the Canadian Kinesiology Alliance (CKA) as a practicing Kinesiologist. In addition to these designations, Katelyn is also WorkWell trained in Functional Capacity Evaluations (FCE) and Australian Combat & Exercise: Technical Lifting.
Katelyn has a key interest in strength & conditioning as well as functional movement in a rehab setting. 
Outside of work, Katelyn can always be found in the gym, lifting heavy weights and strength training. She also can be found rehearsing a large repertoire of dances as an active dancer in the Zabutnyy Dance Company's Ensemble. Beyond physical activity, Katelyn's favorite form of self-care is reading a good novel, enjoying quality coffee and listening to some relaxing tunes.