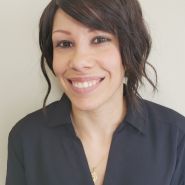 Registered Physotherapist, RPT
Available at multiple locations
About
Maria Kristina (MK) Antonious started at Pro Physio as a physiotherapy assistant (PTA) in 2000. She assisted with modality application and removal (TENS, Interferential current, Muscle stim, heat/ice, ultrasound, etc). After two years of enjoying the clinic and helping people, she enrolled in a four year Human Kinetics program with the University of Ottawa. She graduated in 2007 as an exercise therapist. Her work, split between multi-disciplinary and sport clinics, built her expertise with patients from children to elderly people of all activity levels and abilities.
She worked alongside sport physicians and athletes at the Ottawa Sports Medicine Center. Her time with the multi-disciplinary clinic gave her the opportunity to work on a variety of injuries, including musculoskeletal (ie. Back/Neck pain, work/car accidents, etc.), neurological (stroke, Parkinson's, brain tumors, etc.) and cardiorespiratory (fractured ribs, teaching breathing patterns, etc). MK has been responsible for developing and supervising exercise programs, gait analysis, education, taping, etc. She has been educating her patients about proper sitting posture and sleeping positions, workout modifications, workout form, ergonomics, lifting/job coaching, proper running and gait training.
She has been developing custom exercise programs for each individual patient according to their conditions and goals. These programs aim to improve strength, endurance, proprioception, balance, and function.
MK's passion for learning and her drive to improve herself sent her to Queen's University, where she completed a Master's degree in Physiotherapy. She has since been collaborating with many practitioners, furthermore enriching her skillset. She completed the "Mackenzie" course, which provides diagnosis and treatment alternative therapy for neck, back and extremity pain (Levels A, B and C); "Bonefit" (Osteoporosis); "Acupuncture and Dry Needling", "Taping", "Complex Core" (provides stabilization in training and therapy), "Temporomandibular joint" (neck/jaw pain and headaches), "Thoracic and Lumbar manipulation", "Neurokinetic therapy" (testing specific muscles and addressing compensations), as well as many other musculoskeletal topics such as the shoulder, foot/ankle etc. MK also offers cupping, blading, shockwave therapy, orthotics casting, and compression sock/brace fitting.
MK takes pride and joy in making people feel better and getting them back to the activities they love. She faces complex cases head on, stretching her creative bank of knowledge to adopt a unique treatment plan for her patients. Her approach encompasses the entire body instead of focusing on the injured area. Overall proper form is achieved by teaching patients to engage stabilizing muscles effectively in their day to day activities. This results in improved pain, performance, strength, and quality of life.