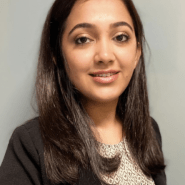 Available at multiple locations
1658 Bedford Hwy, Suite 9025
About
Nancy Pitroda graduated from Queen Margaret University in 2013 with a Master of Science in Physiotherapy. She works with her clients to offer comprehensive treatment addressing biomechanical deficits, movement dysfunction, and any other barriers preventing a client's physical recovery. Her goal is to return her client to pre-injury life, whether that may be returning to work, playing sports, enjoying family activities, or participating in other hobbies. Nancy enjoys helping clients of all ages work towards their rehabilitation and health goals.
Besides physiotherapy services, Nancy also offers pre- and post-surgical care services, WCB, MVA and LTD claims, concussion care, ergonomic services, in-home therapy services, and yoga. She uses a hands-on treatment approach, therapeutic exercises, Kinesio taping, cupping, and modalities to decrease pain and increase overall function. She also has experience treating mastitis, an inflammatory breast condition that is often characterized by a blocked milk duct. She provides treatment with ultrasound therapy, massage, and heat. 
Nancy is trilingual and speaks English, Hindi and Gujarati.