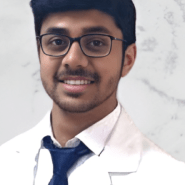 Available at multiple locations
About
Sidhesh is a dedicated and experienced physiotherapist specializing in musculoskeletal rehabilitation. With a passion for helping individuals recover from injuries and improve their physical well-being, he provides personalized care and evidence-based treatments.
He holds a Bachelor's degree in Physiotherapy from a MAEER's Physiotherapy College, India, where he gained a strong foundation in assessing and treating a wide range of conditions. There he was a proud recipient of a gold medal for standing first in the subject of neurology and winning a scholarship for the same and stood first for research paper publication on myofascial release.
His expertise extends to areas such as low back pain, neck pain, radiculopathies and shoulder pain management. With a compassionate and patient-centred approach, Sidhesh works closely with her patients to understand their unique needs and goals. Through a combination of multi-dimensional treatment techniques, Sidhesh utilizes Mckenzie (MDT), Mulligan mobilization, Acupuncture, Dry needling, Therapeutic Pilates and exercise-based interventions to get the best outcomes.
Driven by a commitment to ongoing learning, Sidhesh regularly attends professional development courses and stays up-to-date with the latest research in his field. This enables him to offer the most effective and innovative treatments, ensuring his patients receive the highest quality care.
Outside of his practice, Sidhesh enjoys reading non-fiction books, articles and research papers.
With his expertise, empathy, and dedication to helping his patients achieve their goals, Sidhesh strives to make a positive impact on their lives, promoting their recovery and enhancing their quality of life through effective physiotherapy interventions.