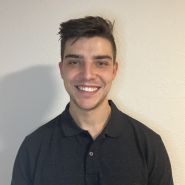 Available at multiple locations
1517 Admirals Road, Unit 104
About
Tyson is a practicing Kinesiologist with the British Columbia Association of Kinesiologists. He received his Bachelor of Science, majoring in Kinesiology, at the University of Victoria in 2021.
After moving from Kamloops to Victoria in 2017, Tyson supplemented his education by working and volunteering with local rehabilitation organizations. During this time, he gained experience working with musculoskeletal, chronic, and work safe injuries at local clinics, fitness centres, adapted gyms, and out in the community.
Tyson's goal when working with clients is to assist in developing a "toolkit" of strategies and habits to maintain optimal functioning long-term.
During his spare time, Tyson likes to explore new parts of the island, read, play his guitar, and be active.