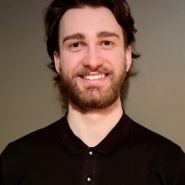 Registered Massage Therapist
Available at multiple locations
Springborough Professional Centre
#221, 30 Springborough Blvd. SW
About
Born and raised just outside of Camrose, Alberta, Zenan played a multitude of sports growing up including hockey, basketball, baseball, badminton, and golf. His passion for sports took him to University of Calgary where he completed a Bachelor of Kinesiology in 2017, playing for the Dinos baseball team for a season before focusing on his academic studies.
Still looking to further his education while finding a career where he could make a difference in people's health, Zenan started the Massage Therapy program at MacEwan University in 2018, graduating in June of 2020 with distinction.
Zenan has an interest in fascial chains, repetitive use injuries, and postural deficiencies. His treatment focuses on trigger point work, deep tissue, myofascial release, and scar tissue breakdown. As a former high-level baseball player, he has a passion for shoulder and elbow injuries, as well as a focus on fascial injuries in both the hands and the feet.
In his free time, Zenan can be found hiking or skiing in the mountains, biking by the river, or golfing.