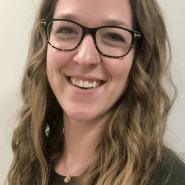 Available at multiple locations
#154 Meadowlark Health Centre
(corner of 87 Ave and 156 St NW)
About
Joanna graduated from the U of A in 2016 with a Bachelor in Kinesiology, and obtained her certificate in personal training through the Canadian Society for Exercise Physiology. She is currently furthering her education in exercise for cancer survivors through Thrive Health Services and is certified in WorkWell functional capacity evaluations. She is also in the process of obtaining her certificate in exercise physiology through the Canadian Society for Exercise Physiology.
Joanna has practised in private clinical settings and worked with various age groups with a variety of conditions. She has special interests in chronic pain, returning her clients to work and activities of daily living, post-operative rehabilitations as well as exercise prescription (especially cancer). She values the importance of educating clients on how exercise can improve their overall condition and functions, as well as the importance of proper exercise technique and prescribing the proper exercises to the correct population.
Joanna enjoys an active lifestyle including running and weight training. She also enjoys spending time outside and time with her family.