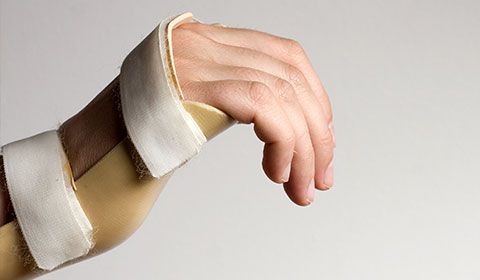 After a sudden injury or a flare up of your chronic condition, you might be able to take it easy at first. Maybe you even applied the RICE method—rest, ice, compression and elevation.
But what happens when you need to return to regular activity? How do you make sure the injured area doesn't move and make things worse?
Whether it's prefabricated or custom-made, a properly placed splint can stabilize and protect your injury from further damage. Here's all you need to know about splinting and how it could help you.
What is a splint?
A splint is a piece of medical equipment used to immobilize an injured part of the body, protecting it from further damage. Used after a surgery, fracture or other injury or for chronic conditions, splints can be purchased off the shelf (prefabricated) or custom designed to fit you. Splints can have parts made from neoprene, plastic, foam, metal or thermoplastic materials that can be heated, cut and molded to fit you.
Custom splinting gives your therapist a greater ability to isolate the specific joint that shouldn't be moving, while allowing range of motion in surrounding joints, helping you avoid unnecessary stiffness. Therapists monitor your progress and make adjustments to your splint throughout your recovery.
Splinting is most commonly used on the upper extremities (such as your wrist or hand), but splints can also be made for your leg and neck.