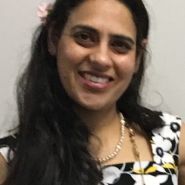 Available at multiple locations
About
Amrinder is a graduate from University of Toronto's Ontario Internationally Educated Physical Therapy bridging (OIEPB) program in 2018. Prior to that she completed her Master and Bachelor in Physiotherapy degrees from Guru Nank Dev University in India. She has worked in Women's College Hospital, Toronto and London Health Science Center University Hospital as intern during her clinical placements.
Amrinder brings her experience gained in acute care setting including stroke unit and outpatient rehabilitation to her current work. She has broad experience in treating clients with a wide variety of neuromuscular and cardiovascular disorders and post-op rehabilitation. In the past, Amrinder has also worked in community care setting and has taught undergraduate Physiotherapy classes in India. She currently works in Stratford. Amrinder provides a patient focused and client centered care and is a very big proponent of educating clients along with the physiotherapy treatment. She develops personalized exercise programs entitled towards meeting client's goals and provides quality care.
Amrinder is looking forward to getting certified in acupuncture and dry needling and planning to enroll in further courses to supplement her knowledge and experience in patient centred care. Amrinder lives in Stratford with her husband and two sons. She enjoys her free time in classical Indian dance, yoga, cooking and traveling.