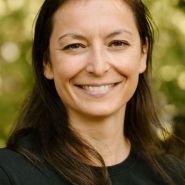 Available at multiple locations
About
Andrea joined the Whistler physiotherapy team in May 2012. Moving from Vancouver, where she worked for a neuro and orthopaedic rehabilitation hospital, she has now found her home in beautiful Whistler.
Andrea graduated from the University of British Columbia with a Master of Physiotherapy in 2011. She previously completed in 2003 a Bachelor of Recreation Studies at Ohio University where she played competitive field hockey for four years for a top 20 NCAA division 1 team. Andrea is a registered Orthomolecular Health Practitioner. She provides nutrition consultations which can help support the patient's journey of healing post injury and provide a preventative approach to health.
Andrea's main passion in physiotherapy is orthopaedics and she has taken many post-graduate courses to develop her skills as a therapist. She is certified in the functional movement screen, which is a research-based tool to assess an individual's potential risk of injury during sport. Andrea is a registered Acupuncture Practitioner. As a Certified Ashtanga Yoga Therapy Teacher, Andrea offers yoga therapy as a treatment & rehab option for clients. She also runs a therapeutic yoga class for clients as well as a traditional Ashtanga Class.
Andrea believes that a holistic approach to rehabilitation can provide numerous benefits to clients during their journey to recovery.
Between her university careers, she played on the Thompson River as a raft guide for six years. Growing up, Andrea involved herself in many different sports from skiing and snowboarding to tennis, gymnastics, softball and of course field hockey. Now as an adult, she has become very passionate in mountain biking and skiing. Whistler is the perfect place for Andrea to play hard and work hard.
Certifications
Acupuncture
Manual therapy
Bracing
Yoga Therapy
Clinical Reformer Pilates