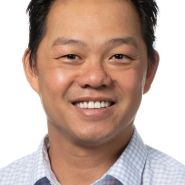 Available at multiple locations
Academy Place
207, 11520 - 100 Avenue

8944 182 St NW
Suite 300
About
Anhtu graduated from the University of Alberta with a Bachelor of Science in Pharmacology in 1995, followed by Bachelor of Physiotherapy in 1999. Before joining Lifemark, Anhtu successfully owned and operated Interactive Health Physiotherapy in Calgary and has managed several other physiotherapy clinics. He has extensive training in all forms of treatment and pain management. 
His therapy sessions follow a comprehensive hands-on approach that includes intramuscular stimulation (IMS), manual therapy (spinal manipulations), followed by exercises. He strongly encourages clients to follow the exercise regime given, to maintain improvements and promote an active and healthy lifestyle. 
Anhtu has a special interest in treating complex spinal conditions, athletic injuries, whiplash, and repetitive stress injuries. Anhtu has been involved in the treatment of many athletes and loves being involved in tennis, weight lifting, and basketball.
Certifications
Bsc PT, Bsc PMCOL, AFCI, CGIMS