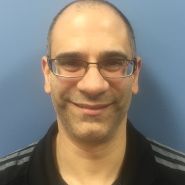 Available at multiple locations
555 Prince Charles Drive North
Unit 108
About
Anthony DiBiase graduated as a physiotherapist from McMaster University in 1998. He has an initial background in the education field. He received a Bachelor's of Physical Education from Brock University then went on to obtain his teaching certificate and a Master of Science in Education degree at Canisius College in Buffalo, New York. This background has helped Anthony to provide strong education to his clients regarding the nature, prognosis and treatment of their impairments.
Anthony has worked in various acute care hospital settings with the majority of his experience in the private practice setting. Manual therapy, exercise prescription and therapeutic modalities from an evidence based perspective are all incorporated into his practice. Finally, Anthony provides specialized vestibular assessment and treatment for such impairments as positional vertigo and age related balance issues.
Anthony enjoys hiking, biking, tennis and any activity involving the outdoors.