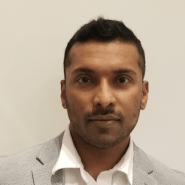 Available at multiple locations
About
Arvin Simon is a clinical psychologist working in multidisciplinary teams specializing in the assessment and treatment of psychological and physical injuries. He completed his doctoral training at Duquesne University in Pittsburgh, PA and his residency training with the Saskatchewan Health Authority in Saskatoon, SK.
With over 12 years of experience, Dr. Simon is experienced in the treatment of mood and anxiety disorders, trauma and stressor related disorders as well as managing chronic diseases and pain. His treatment methods include psychodynamic psychotherapy, cognitive-behavioral and PTSD-specific (i.e., Prolonged Exposure and Cognitive Processing) therapies. 
Dr. Simon is also enthusiastic about teaching and supervising psychologists. Other research interests include improving therapeutic outcomes, health equity, community psychology, and psychological contributions to environment and design.