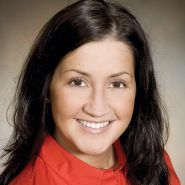 Available at multiple locations
(Inside Fit4Less)
650 Portland Street
About
Ashley is a bilingual physiotherapist (French/English), joined the team in 2012. She is a member of the Canadian Physiotherapy Association's orthopaedic division and of the NS College of physiotherapists. She believes that her enthusiasm for research not only allowed her to excel academically, but allows her to treat her clients with care based on the most current literature/best practice guidelines.
Originally from Campbellton, NB, Ashley moved to Halifax to attend Dalhousie University where she completed two degrees: a Bachelor of Science with a major in Neuroscience and a Master in Physiotherapy. Upon graduation in 2012, Ashley was awarded the School of Physiotherapy Research Award in recognition of the student who achieved the highest standing in the Research Proposal (presentation/defense) component of the program.
To date, Ashley has completed post-graduate education courses in chronic pain, manual therapy, acupuncture, functional dry needling, and Mulligan techniques. She plans to continue taking courses to broaden her knowledge and skill set in manual therapy, movement disorders and exercise prescription.
In her role as a physiotherapist, Ashley has also volunteered at various sports events including a Special Olympics FunFitness camp and various Health Fairs. She has always led an active lifestyle, having competed in both dance (ballet, tap, jazz, modern and lyrical) and soccer for many years. She now enjoys spin and yoga classes as well as running and weight training. She has also completed a number of 5km and 10km runs with the hopes of completing her first half in the near future.