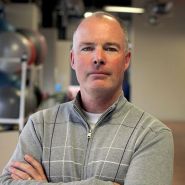 M.P., B.SC.P.T., DIP, SPORT P.T., CGIMS
Available at multiple locations
PO Box 5485 High River, AB T1V 1M6
Business address: 2214 - 20th Street

PO Box 5485 - 228 12th Avenue SE
Suite 201
About
I have long been fascinated by the way people move. Whether it's a simple movement like climbing the stairs, or the complex performance of an elite athlete, the human body is an amazing machine. For 25 years I have had the privilege of helping people move better.
After degrees in physical education and physiotherapy at the University of Alberta, I completed a masters degree in exercise physiology and a sport medicine fellowship at UBC. I have worked with local, varsity, national and professional athletes. Helping Canadian athletes has taken me to both summer and winter Olympic games along with many Commonwealth, Pan American and Paralympic events.
I believe the key to recovery is understanding. Once I understand you injury and your goals I can help you understand; how your body works, the reasons for your injury, what you need to do, and the tools you need to stay healthy over time.