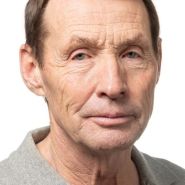 Available at multiple locations
Academy Place
207, 11520 - 100 Avenue
About
Bob Sydenham graduated from Washington State University in 1972 with a B.Sc. in Physical Education and from the University of Alberta in 1975 with a Diploma in Physical Therapy. He is licensed to practice in Alberta and Washington State and is a member of the Canadian and American Physical Therapy Associations.
Bob was a member of the Board of Directors of the URSA Foundation, a non-profit organization in Washington State for the teaching of manual medicine from 1982 - 2017, and has been associated with the University of Alberta as a Clinical Assistant Professor in the Department of Physical Therapy in the Faculty of Rehabilitation Medicine.
Bob obtained certification status in Orthopaedic Manipulative Physical Therapy in 1983 (FCAMPT) and has taken multiple post-graduate courses while working full time in private practice. He is a Past Canadian Representative and a Past President of the International Federation of Manipulative Physical Therapists (IFOMPT).  He has held and continues to hold positions on various committees of Physiotherapy Alberta College + Association and the Canadian Physiotherapy Association.
Bob has lectured, taught courses and consulted in Canada, the U.S.A., Jamaica, Trinidad, Barbados, Saudi Arabia, Germany, Poland, South Africa, and China. He has delivered presentations nationally and internationally and has published in orthopaedic texts and journals. He is a Consultant to the Columna Medical Facility in Poland.
Bob received the Canadian Academy of Manipulative Therapists' Life Time Achievement Award, the Canadian Orthopaedic Division's highest award, the Golden Hands Award and is a Honourary Fellow of the American Academy of Orthopaedic Manipulative Physical Therapists (AAOMPT).
Bob continues to work in his original private practice clinic of 41 years, for Lifemark Health, in Edmonton, Alberta. His practice focus is assessment and treatment of the upper cervical spine.