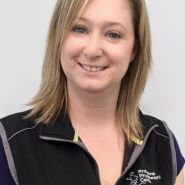 Available at multiple locations
About
Brianne graduated from the University of Ottawa with a Bachelor of Science degree in Human Kinetics in 2004 and then went on to graduate from Queen's University with a Master of Science degree in Physical Therapy in 2006.
She began working at the Bank Street location of Pro Physio & Sports Medicine Centres in 2007. She has continued her education with a goal of always providing quality care to her clients. She has gone on to complete courses from The Robin McKenzie Institute of Canada (part A), Acupuncture Foundation of Canada Institute acupuncture (parts 1/2A/3A), Advanced Orthopedic Manual and Manipulative Therapy (level 1 and 2 upper/lower quadrants).
She has also completed courses from Advanced Physical Therapy Education Institute (therapeutic taping/cervical spine/lumbar spine/sacroiliac joint and pelvis/TMJ), Movement Systems Impairment Syndromes by Shirley Sahrmann, OOLAB (custom orthotics), Concussion Rehab Works (concussion management), Bauerfeind (compression stockings), Mastering the Shoulder by Cameron Bennett, (orthopedic courses 1 and 2), WorkWell (functional capacity evaluations), Vestibular Rehabilitation by Sheelah Woodhouse, and Pain Science by Neil Pearson.
Brianne enjoys helping develop the future generation of physiotherapists by overseeing student clinical placements.
She keeps active by playing with her two children, walking her dog, and hiking with her family. She also volunteers her time with the local Seats for Kids organization as a Child Passenger Safety Technician, ensuring that parents receive up-to-date car seat safety information.