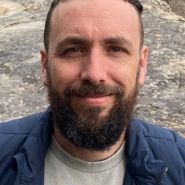 Registered Massage Therapist
Available at multiple locations
About
Bryan graduated from Summerland Secondary School and went to Regina for a year of post-secondary education. While at school, Bryan was active in many sports and played a year of college basketball. After his first year at school, he took some time to work and save for future schooling. He then went to Okanagan University College in Kelowna and took the Rehabilitation Assistant course.
After graduation, he was employed by three different hospitals in the South Okanagan. From this experience, Bryan decided to further his studies in Health Sciences. He went on to attend the Okanagan Valley College of Massage Therapy (OVCMT) located in Vernon. Upon graduation from OVCMT, Bryan and his wife chose to move back to their home town of Summerland.
He enjoys many recreational activities including kayaking, snowboarding, skiing, cross country skiing, basketball, soccer, running, hiking, swimming, mountain biking and road biking. He enjoys being part of the team at Lifemark West Kelowna.