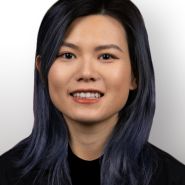 Available at multiple locations
Olympic Oval
6111 River Road, Suite 160
About
Kelsey graduated from McGill University with a Bachelor of Science degree in Kinesiology. With a focus on rehabilitation, Kelsey specializes in working with individuals recovering from various injuries, chronic conditions. Her area of expertise lies in lower back and shoulder injuries, where she has acquired in-depth knowledge and practical skills to aid in the recovery process.
As a compassionate Kinesiologist, Kelsey aims to make a positive impact in her clients' lives, assisting them in reclaiming their physical capabilities and enhancing their overall well-being. With her expertise, empathy, and genuine care, she guides individuals towards optimal recovery, empowering them to lead healthier and more fulfilling lives.
Kelsey is fluent in Mandarin, English, and Wu Chinese.
Outside of her work, Kelsey enjoys cooking, drawing, and engaging in surf-skating.