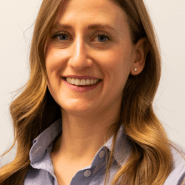 Available at multiple locations
About
Christine completed her Bachelor of Health Sciences in Health Studies from Western University in London, Ontario before earning her Master of Science in Physical Therapy from the University of Alberta. The positive physiotherapy experiences Christine has had through various volleyball and basketball injuries, as well as her passion for helping people, led her to become a physiotherapist.
She has specialized training in pelvic floor physiotherapy and treats conditions such as; urinary and fecal incontinence, pelvic organ prolapse, pregnancy and post-partum, pelvic pain, and painful intercourse. She has completed several continuing education courses in the field of pelvic health and has participated in an extensive mentorship program with professionals who have been in the industry for 20+ years. She has also furthered her orthopeadic skills by completing courses such as the Canadian Orthopedic Level II lower quadrant training in manual therapy and Functional Dry Needling.
Christine believes in utilizing a collaborative approach to treatment with the goal of empowering patients to have an active role in their rehabilitation. Education about the injury, manual therapy and individualized exercise programs are emphasized to provide patients with the tools they need to be successful. Christine has worked with patients with a range of musculoskeletal injuries and has a special interest in women's health.
She grew up playing competitive volleyball and basketball and still maintains her love of sport and fitness by lifting weights and running several days a week. Currently she is training for her first marathon. She also enjoys spending time with family and friends, reading and travelling.