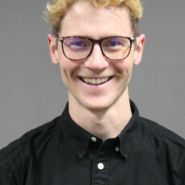 Available at multiple locations
About
Curtis grew up in Southern Alberta and completed his Master of Sciences in Physical Therapy from the University of Alberta. Prior to completing his MScPT, Curtis received his Bachelor of Human Kinetics specializing in clinical exercise physiology at the University of British Columbia Okanagan.
His passion for physical therapy began early on having suffered many injuries and resultant surgeries from freeride skiing, skateboarding, and mountain biking.  From this, he strives in helping people get back to what they find truly meaningful in their lives whether this be from playing tennis, cross-country skiing, taking care of grandkids, or making daily tasks easier.  This is what drives Curtis' active approach to rehabilitation is to aid his patient's in accomplishing their unique goals. 
Having grown up close to the Rocky Mountains, Curtis was heavily involved in the outdoors taking part in alpine skiing, rock climbing, mountain biking, whitewater kayaking, trail running, and hiking. When Curtis is not in clinic, you can find him on his skateboard and road biking. With a true passion for skateboarding, Curtis has experience in treating a wide variety of ankle, wrist, and knee injuries. He also has background in treating individuals with cardiorespiratory conditions such as COPD, pulmonary fibrosis, and long COVID. He would be happy to be a part of your rehabilitation journey in creating an individualized treatment program suited to your lifestyle.