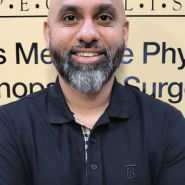 Available at multiple locations
About
Deep earned a Bachelor of Science Honors degree in Physiotherapy Cardiff University in the UK in 2012. Prior to this, he obtained his BA from the University of Western Ontario.
While obtaining his physiotherapy degree, Deep gained practical experience in various patient care settings, which included the areas of neurology, respiratory, and musculoskeletal, while working with a wide range of client population from children to geriatrics. His assessment and treatment is based on evidence based practice which is tailored to his clients' injury and impairment. Through manual therapy, exercise and client education, he helps his clients achieve their goals to improve their overall activities of daily living.
In his spare time, Deep enjoys playing basketball, volleyball and soccer.