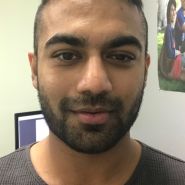 Available at multiple locations
Languages Spoken:
English
Gujarati
Hindi
Marathi
Urdu
About
Dharmanshu graduated from Rajiv Gandhi University, India with his Bachelor of Physical Therapy in 2014. He also has a Postgraduate Diploma in Fitness & Health Promotion from Humber Institute of Technology and Advanced Learning, Toronto.
Dharmanshu feels great working within the areas of orthopedic and geriatric physiotherapy and is interested in helping children achieve their goals through pediatric physiotherapy. Dharmanshu plans to pursue further training in orthopedic manual therapy and pediatric physiotherapy.
Dharmanshu has been active member of community volunteering for various support groups and health awareness initiatives. He also volunteered with the Ontario Physiotherapy Association to bring physiotherapy awareness through #WeArePT campaign in 2019.
In his free time, Dharmanshu enjoys cooking and dancing on folklores. He has been learning ice skating for a year now and aiming to accomplish it soon. He has worked as a leader in food industry and customer services as a student in Toronto for five years.