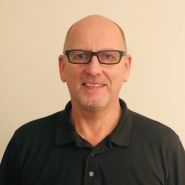 Available at multiple locations
Newfoundland and Labrador
About
Duane graduated from Dalhousie University in 1991 with honours in Physiotherapy and is a member of the Canadian Physiotherapy Association and the Newfoundland and Labrador Physiotherapy Association. He has been in private practice in both Corner Brook and the Deer Lake region since that time.
He has been treating orthopaedic conditions from a variety of origins and has gained a wealth of experience. Duane has completed several musculoskeletal post secondary training courses in a variety of areas such as manual therapy, acupuncture, stability training, exercise therapy, etc. He has a special interest in spinal related pain and exercise prescription.
In his spare time, he enjoys the outdoors and spending time with his family and dog, Wilson.