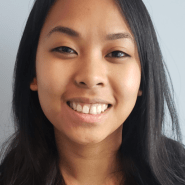 Registered Massage Therapist
Available at multiple locations
About
Eleanor has always enjoyed playing sports and being active outside, as a result she became fascinated with the human body and how it moves. She also loves helping others especially in one-on-one interactions. Combining those two passions together she decided to pursue a career in massage therapy and graduated from Sutherland-Chan School of Massage Therapy and Teaching Clinic.
With a wide range of techniques and knowledge about various health conditions, Eleanor tries her best to help patients achieve their treatment goals whether it's for pain or stress-relief, injury treatment or prevention, postural awareness and overall relaxation.
She provides treatments specific to her client's needs using techniques such as Swedish and deep tissue massage, trigger point and myofascial release, low grade joint mobilization, lymphatic drainage, and dynamic stretching.
Her clinical experience includes treating patients with various health conditions such as post- surgical, stroke, diabetes, pregnancy (including pre-natal high risk pregnancy) and TMJ dysfunctions.