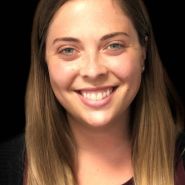 Available at multiple locations
About
Erin MacIsaac first joined the Lifemark team in 2017. She is originally from Dartmouth, Nova Scotia. Erin completed a Bachelor of Arts (2015) at St. Thomas University in Fredericton New Brunswick. She was fortunate to have to opportunity to play university hockey and golf during her undergraduate studies. She completed her Master of Science in Physiotherapy (2017) at Dalhousie University. Erin has always had an interest in sports physiotherapy and has been a therapist for several sports teams; including the Dalhousie Football Team (2016) and Hockey Nova Scotia (2017). Since graduating, Erin has continued her learning through post-secondary education courses, including Functional Dry Needling (FDN) level 1 through Acupuncture Canada (2019). She is currently a member of the Canadian Physiotherapy Association (CPA) and is registered with the Nova Scotia College of Physiotherapists (NSPA). 
Erin believes in taking a global approach to treatment. She understands that education is the key to empowering her patients, as well as the importance of exercise in allowing people to take an active role in their own recovery.  She uses a holistic approach while assessing and treating a patient, taking into consideration different psychosocial and pharmacological barriers that may affect their recovery.
Erin leads an active lifestyle, and enjoys participating in several activities including skiing, golfing, hiking, water skiing, running, and hockey. In her spare time away from the office, Erin enjoys travelling. She believes that the best way to learn and appreciate other peoples and their cultures and is to immerse yourself in them. She is grateful that Lifemark allows her to have this opportunity.