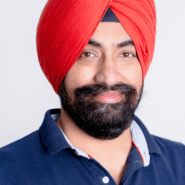 Available at multiple locations
About
Gurdeep is a well-rounded physical therapist with a diverse background in the field of rehabilitation, beginning with his role as a physical therapist in 2004 and earning a Master's degree in Orthopedics in 2006. He has over 17 years of expertise in providing high-quality services, such as consultation, intervention, and evaluation, as well as program planning and implementation, with the goal of preserving optimal function, preventing disability, and promoting well-being. Gurdeep earned his PhD degree in 2013 while working with Type 2 Diabetic men. He also contributed to the federal government of India's major research project on the Effects of Exercise on Type 2 diabetic men.
He has broadened his knowledge base by obtaining certification in Manual therapy, as well as Taping and Bracing techniques. Additionally, he has successfully completed workshops on the application of NDT and SI principles to the management of children with Cerebral Palsy. He was also recognized for his paper presentation at the 5th Asia-Pacific Exercise and Sports Science Conference, which was held at Shanghai University of Sports. Recently he obtained certification for performing Functional Dry Needling.
He believes in an interpersonal approach to patient care and is thus interested in internal and external service collaboration. He is a firm believer that patients can develop the necessary skills to continue their rehabilitation journey independently through patient-centered care, education, and exercise programs.
When he is not working with patients, he enjoys playing cricket with his two sons, taking long walks, and spending time with his family.