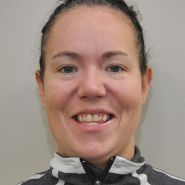 M.Sc.,P.T. FCAMPT, IMS/FDN
Available at multiple locations
#154 Meadowlark Health Centre
(corner of 87 Ave and 156 St NW)
About
Holly graduated from the University of Alberta with a Master of Science in Physical Therapy in 2009 after completing her Bachelor of Science with distinction in Kinesiology. Since that time, she completed her Diploma in Advanced Manual and Manipulative Therapy in 2016 and has FCAMPT status as a Fellow of the Canadian Academy of Manipulative Physiotherapy.
Holly has also completed upper and lower quadrant Mulligan concept courses, Charlie Kelly's mobilization of muscles and level one of Kineticore's functional dry needling course (intramuscular stimulation) with intentions of completing level two in 2018.
Holly has an interest in treating many types of injuries and age groups and enjoys the diversity that the physiotherapy profession provides. She has been employed at our Stony Plain location since graduation in 2009.
As a former varsity athlete for the University of Alberta Panda's Hockey team and still active in the recreational world of athletics, she firmly believes that "physiotherapy only works if you do" and tries to incorporate an active and preventative approach into her treatments.