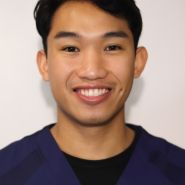 Registered Massage Therapist
Available at multiple locations
Unit# 225, 339 Aspen Glen Landing SW
About
Irven completed his 2200-hour Massage therapy diploma at Mount Royal University and is registered with the Massage Therapist Association of Alberta (MTAA). After graduating in 2020, he pursued certifications in orthopedic massage, kinetic massage, dynamic cupping and neurofascial release. In conjunction to these modalities, he also includes deep tissue and myofascial release in his treatments.
Practicing as a registered massage therapist, Irven has worked with various musculoskeletal conditions. His experience ranges from whiplash, overuse injuries, chronic injuries and postural related dysfunctions. His approach to treating is centered around finding the root cause of the client's ailment along with educating the client, in order to prevent or better their condition.
When not working at the clinic, Irven enjoys running, boxing and Brazilian jiu-jitsu.