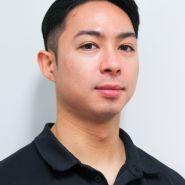 Registered Massage Therapist
Available at multiple locations
Olympic Oval
6111 River Road, Suite 160
About
James is a graduate from the Registered Massage Therapy program from Vancouver Career College. Throughout his program, James had the opportunity to gain experience treating a wide range of patients in places such as sporting events, rehabilitation centers, and senior homes. James is trained in areas of therapy such as Myofascial Release, Trigger Point Therapy, Deep Tissue Release, Sports Massage, and Swedish Massage. With his knowledge and training, James incorporates different massage techniques to help alleviate acute or chronic symptoms. His therapy is patient centered, encouraging feedback and active communication to improve your quality of treatment. 
He believes that with a little help, your best health can be achieved. No matter what your goals are, or where you're starting at, James will be happy to help you along your journey.
Outside the clinic, James is an RMT instructor and enjoys travelling, hiking, golfing, and weight training.