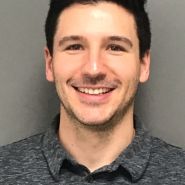 MSc. PT, BPE, BEd, Gunn IMS
Available at multiple locations
15379 Castle Downs Road Northwest
#201
About
James has been a member of the Lifemark family since 2014. He completed his Master of Science in Physical Therapy from the University of Alberta, where he was the recipient of both the Canadian Physiotherapy Association Award and Dr. JR Fowler Award. His passion for the human body, coupled with his desire to educate and help others, led him to enter into this field.
James treats a variety of musculoskeletal conditions, motor-vehicle accident injuries, concussion, and balance and dizziness disorders. He strives to provide his clients with the best, most up to date care possible. It is for this reason that he has completed a number of post-graduate courses in Advanced Orthopaedic Manual and Manipulative Physiotherapy, Vestibular and Concussion Rehabilitation, GLA:D for Knee & Hip Osteoarthritis, and Gunn Intramuscular Stimulation (IMS) from the University of British Columbia.
James has remained actively involved with the University of Alberta's Department of Physiotherapy. He served as a Clinical Assistant Professor for two years, and is currently a teaching assistant and interim instructor for the department. James has volunteered to be a clinical instructor for a number of physiotherapy students, and was the recipient of the Faculty of Rehabilitation Medicine's Clinical Educator of the Year Award in 2018. He also continues to serve as an examiner for the department's practical exams. James is thrilled that he is able to continue teaching others, as he was a teacher at the high school and middle school levels for almost eight years prior to becoming a physiotherapist.
Outside of work, James enjoys spending time with his family, working out, playing recreational sports, and camping. He is also an avid movie watcher, and can easily lose track of time talking movies.
James truly believes that "within every patient resides a doctor, and we as [physiotherapists] are at our best when we put our patients in touch with the doctor inside them" (Albert Schweitzer). He looks forward to helping you find your "inner doctor" so that you can get back to doing what it is you're passionate about.