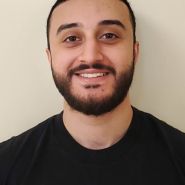 Registered Massage Therapist
Available at multiple locations
1585 Tenth Line Road
(inside Ray Friel Recreation Complex)
About
As an athlete and an active individual, Jamil was interested in the field of Massage Therapy, as he believes massage therapy can help the body overcome any impairments it may have. After completing the three year Massage Therapy course at Algonquin College, he became registered with the College of Massage Therapists of Ontario.
Growing up, Jamil enjoyed playing all types of sports, but it wasn't until high school when he started seeking massage therapy to help his body recover during our rugby season. During our outreach program at school, Jamil was lucky enough to work with the athletes at Carleton University, the rehabilitation clinic at the Riverside hospital, and the Chronic Pain clinic at Algonquin.
Jamil likes to incorporate many techniques into his treatments, including trigger point therapy, stretching, neuromuscular techniques and fascial release. His goal as your therapist is to get an understanding of your condition, and apply the necessary techniques to help you get better. Massage does not have to be painful to notice improvement.